Courage To Care
Our beneficiaries struggle to get through each day. Help us care for vulnerable children, underprivileged families, frail elderly and isolated migrant workers. Below, you will find some stories of our beneficiaries under our care whose lives have been transformed with the help of the donations we receive.
GUIDING AND ENGAGING YOUTH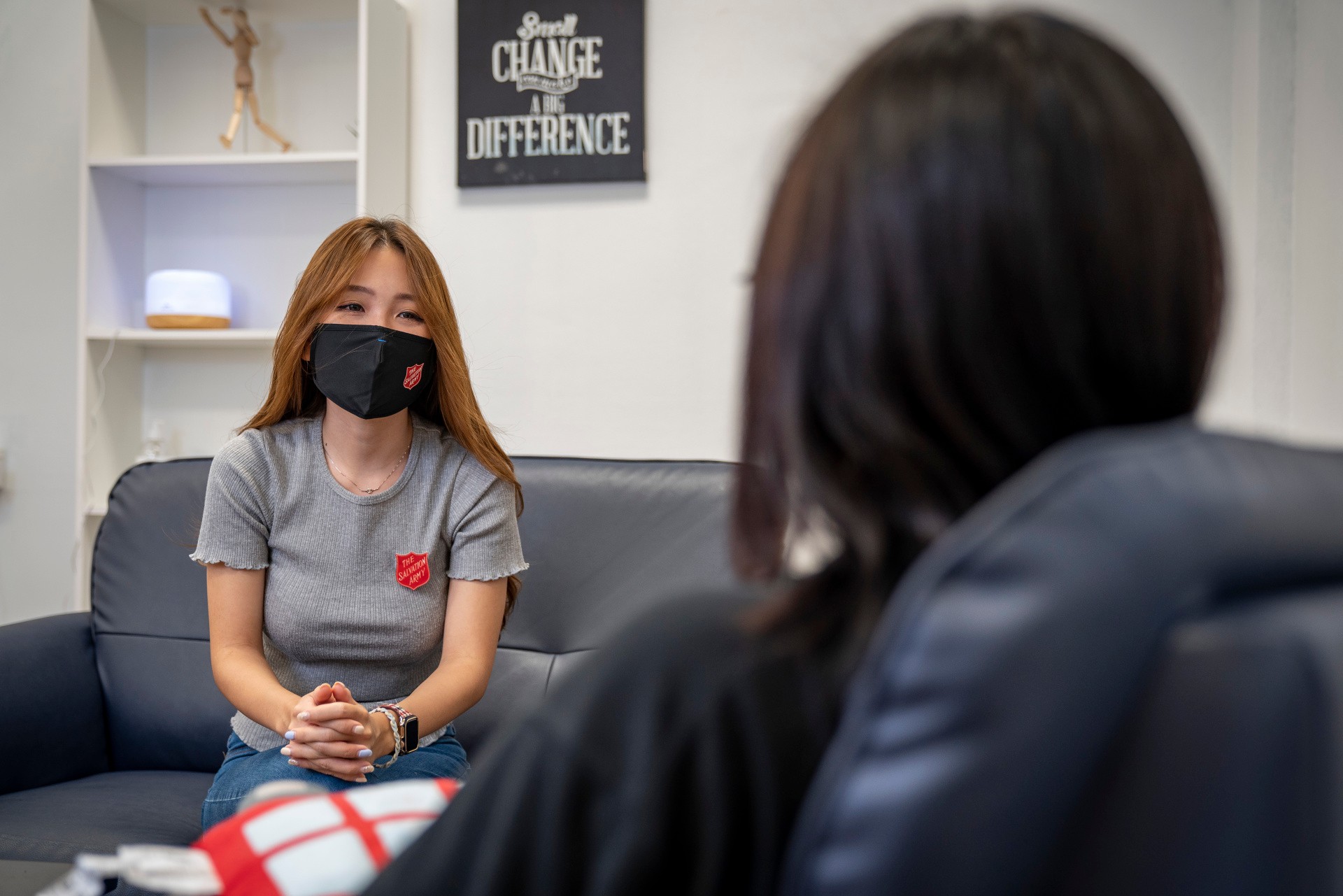 Amy* was placed in The Salvation Army Gracehaven due to a court order. Coming from a troubled background, Amy would often display delinquent behaviour. Initially, our team at Gracehaven struggled with reaching out to her as she had a deep distrust of people. Despite the challenges, we continued to engage her. Our efforts eventually paid off and Amy's behaviour improved. We extended various opportunities to help her discover her interests.
Amy participated in The Salvation Army Network for Teaching Entrepreneurship competition by Halogen Foundation in 2019 and clinched the 5th place in the final round. Before Amy's discharge, Gracehaven started working with Youth Development Centre's Next Chapter team so that we could support her through our aftercare service. We paid Amy's father a visit to prepare for their reunification and continued to journey with her. At the end of the year, we rejoiced with Amy when she was amongst the top students in the Normal (Academic) cohort.
Due to a family conflict that could not be resolved, Amy moved out from her home a few months later. Fortunately, she found temporary accommodation and updated us. We eventually secured safe accommodation for her at a hostel. Today, Amy is coping well and is volunteering actively to make an impact on her generation. Will you help others like Amy to turn their lives around?
*To safeguard our beneficiary, the name has been changed, and the beneficiary is not in the photo.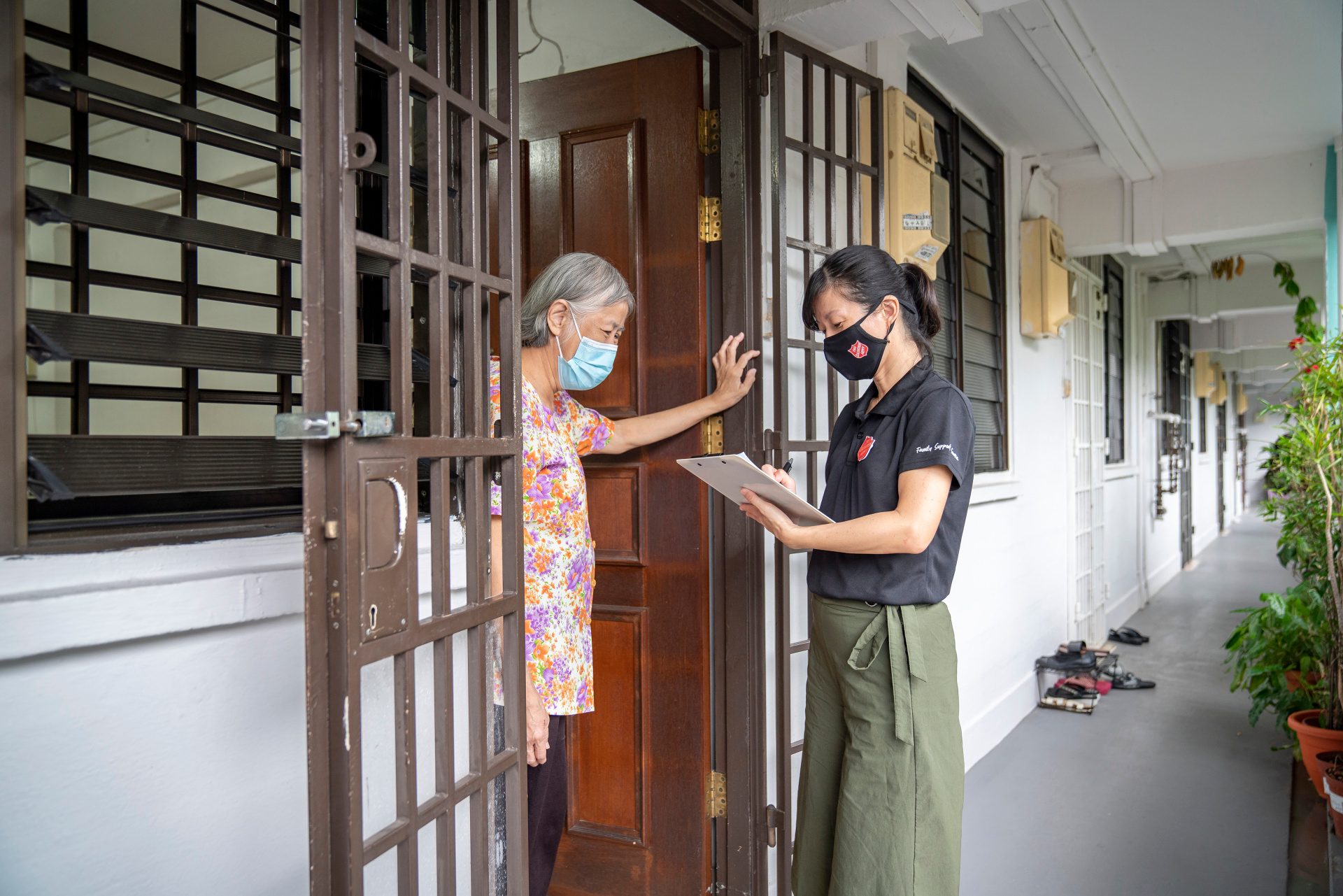 At The Salvation Army, we often meet people from diverse backgrounds with varying needs. Mdm Sheila*, a single mother with a young son, was one of them who approached The Salvation Army Family Support Services (FSS). After Mdm Sheila was granted custody of her son from her divorce, she moved into a rental flat due to the regular hostilities at her parents' home. Being the sole provider and caregiver, she was under undue stress juggling between working part-time and caring for her son.
In desperation, she approached FSS for assistance. Without haste, FSS supported her through counselling sessions, gave food rations and referred her to the relevant agencies for financial assistance. Just when things were stabilising, Mdm Sheila's son was diagnosed with attention deficit hyperactivity disorder. Having to accompany him for his medical appointments, she had to be frequently away from work, which caused her to lose her job. These setbacks eventually took an emotional toll on her.
FSS staff stood by her and provided her with a safe space to relieve her pent-up frustrations. FSS also helped her prioritise her family's needs and find new support networks for her son. After gaining new strength to manage her situation better, Mdm Sheila is now ready to re-join the workforce. Your gift can help people like Mdm Sheila, who were impacted by their living circumstances, stay resilient during challenging times.
*To safeguard our beneficiary, the name has been changed, and the beneficiary is not in the photo.

*Noel was only six when the Ministry of Social and Family Development referred him to The Haven, a residential home under The Salvation Army Children and Youth Group. Noel's parents were unable to meet his developmental needs as his mother suffers from schizophrenia and his father's cognitive functions were deteriorating. Verbal abuse was ever-present in the home and this resulted in Noel mimicking unwholesome behaviour and using coarse language. He subsequently exhibited scarring all over his body due to poor management and treatment of his eczema condition.
One of our immediate goals was to bring his skin condition under control. Our personalised care plan for Noel included regular medical consultations and working closely with his school to create innovative learning strategies for him. With our unswerving care and dedication, Noel's behaviour began to take a positive turn. Sadly, just when Noel was progressing well, his mother fell very ill and passed away. Due to his young age, Noel felt lost and confused. In collaborating with other professionals, we were able to help him cope better and gradually accept his mother's death.
Today, Noel has emerged stronger. We hope that Noel's story inspires you to transform the lives of many others around us. With your support, we can ensure that they can have hope for their future. Thank you for giving generously.
*To safeguard our beneficiary, the name has been changed, and the beneficiary is not in the photo.
JOURNEYING WITH THE ELDERLY

Mdm Yang* suffers from an intellectual disability and has always depended on a caregiver for her daily needs. When her mother passed away many years ago, her sister took over as her caregiver. As time passed, Mdm Yang's health underwent a functional decline and she was admitted into The Salvation Army Peacehaven Changi Day Centre in 2017.
Over at our day centre, we cared for Mdm Yang and helped her to regulate her emotions by engaging her with her favourite activities. Our physiotherapist also regularly engaged her in exercises to help maintain her functional abilities. During the weekends, Mdm Yang received home care assistance for showering and grooming. In 2020, Mdm Yang's Alzheimer disease worsened and it became increasingly difficult for her sister to cope.
In the interest of both sisters, Peacehaven arranged for Mdm Yang to attend the day centre seven days a week. When Mdm Yang's functional decline progressed even further, our social worker arranged for her to be admitted into Peacehaven Nursing Home. Throughout Mdm Yang's care under The Salvation Army, we assisted the family with financial assistance and provided caregiver support to her sister. Mdm Yang continues to need our support for her nursing care. Please help us to continue caring for her and other needy beneficiaries with your kind donation today.
*To safeguard our beneficiary, the name has been changed, and the beneficiary is not in the photo.
ENHANCING PARENT - CHILD BONDS

Mandy* joined The Salvation Army Kids In Play so that her kids could be part of our Family Bonding sessions and interact with their father at the prison without physical barriers. Her two kids would always look forward to the visits where they were able to spend a meaningful time with their father. Unfortunately, the physical visits were temporarily stopped due to the pandemic.
To continue supporting Mandy and all our clients, we initiated virtual Family Bonding programmes and various activities so that our families can stay connected to their loved ones. For Father's Day this year, we facilitated an activity, which involved our kids and their incarcerated parents writing letters to each other. Mandy's kids drew a lovely card for their father and were delighted when they received their father's letter and personalised heart-shaped origamis.
Kids In Play has helped Mandy's kids maintain a close bond with their father through the virtual programmes and EMPower group sessions that are designed for kids. Mandy has also benefited from our Caregivers' Connect sessions through the online group discussions with fellow caregivers. She also gives back to the community by sharing her experiences and encouraging others to be resilient. You too, can help families impacted by the incarceration of their loved ones to stay strong by donating today.
*To safeguard our beneficiary, the name has been changed, and the beneficiary is not in the photo.